If you read this quickly, you've still got a short window to get in on a Kickstarter campaign for a mini-sized product: Dungeon Fantasy Roleplaying Game Monster Seeds, a collection of adventure ideas starring demons and lurching dead and other evil from DFRPG's original Monsters book. (See additional announcements here and here.)
This will be a short book, apparently with only 12 entries, two per page. And you don't even need to buy it! As the campaign page cheerfully notes, the entries are already collected on this forum thread. So it's a packaging of freely available material, and just a few pages of it – buy hey, it's one dollar. A single copper coin. Just 0.67% of a week's stay at Ye Olde Inn in Town. Let's pony up for this.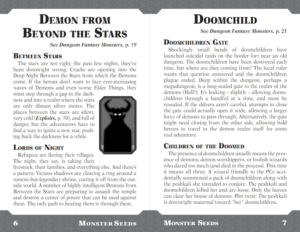 Sure, the addition of new material would be nice – if nothing else, new adventure seeds for more monsters. But new material makes for a new writing project, not compilation project, so… more cost, more time. While I love big, meaty releases for the system, I also like seeing fast-paced mini projects pop into existence.
While you're visiting the Kickstarter page, note the extra goods available as reward levels and add-ons. If you're a newcomer, this is your chance to go beyond the $1 buy-in and get settled with the best dungeon-delving game I know of. Pick up the boxed game itself, maybe the super-sturdy GM screen, and the… well, it's all good. (It's also an excellent doorway into the storied GURPS system.) Check out the offerings, then work over your piggy bank until it coughs up the silver. (No straps and Interrogation skill needed; a deftly applied butter knife will do.)
Anyway, congrats to Steve Jackson Games on this modest and already successful Kickstarter campaign. And hey, as long as I (imagine that I) have the company's attention, a few messages to the good folk there:
Your GURPS Forum contains an announcement of this DFRPG campaign – but your DFRPG Forum doesn't? It's an easily corrected little oversight.
As info for newcomers, your Kickstarter page links to some reviews and resources. All good sources! But if I may suggest another: When you link to DFRPG reviews and such, feel free to include 31 reasons why you want to pick up Dungeon Fantasy Roleplaying Game (and fast!). I wouldn't normally self-promote, but you featured this review once in your Daily Illuminator, so I gather it's to your liking. (Or maybe not. Be honest: is it too fawning?)
Are you short on ideas for yet more DFRPG releases? (You're not; I know. Humor me.) I got plenty of ideas here. What they'll cost you doesn't even amount to a dollar – and they're worth every cent of it.
Link