At the end of August 2016, Steve Jackson Games (SJG) announced its next big thing: a Kickstarter campaign for the Dungeon Fantasy Roleplaying Game.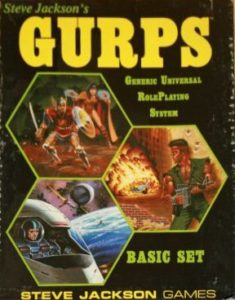 No one reading this site needs to hear this news from me – in fact, you, Reader, most likely backed the game on Kickstarter and are now counting down the days (or months, anyway; the shipping date isn't exact yet) until its maps and original Cardboard Heroes figures adorn your table.
But here it is in a nutshell anyway: Dungeon Fantasy Roleplaying Game (DFRPG) is an upcoming boxed game from SJG that bundles a complete "dungeon fantasy" roleplaying set into one box, with everything you need for violence-based treasure-seeking: Character and dungeon design rules, monsters, maps, counters, dice, even ready-to-play characters and an adventure. All the good stuff, in one box. (GURPS in a box! Remember that from the 80s? It's back!)
It's a go!
The proposed nut in that shell was well-received by GURPS fans: the Kickstarter was a success, with pledged moneys exceeding the funding goal and rolling on to meet several generous stretch goals (though stopping short of a final couple). Since then, the shipping date has already been moved forward once, from the initially proposed May 2017 to August. That's unfortunate, but worry not.
First reason to look forward to DFRPG: It's a big project. It's not just a bundling of the existing GURPS Dungeon Fantasy series into a box; it's new, exciting stuff, a base of GURPS pared down and reworked expressly for the avocation of subterranean murder and looting. Plus cool toys like maps and figures.
Second reason to look forward to DFRPG: The lead brain/workhorse behind the project is SJG's Sean "Dr Kromm" Punch, and his regular reports assure us that he's forging ahead and making good progress.
(And ask yourselves, GURPS fans: Have you ever seen anything less than excellent come from this guy?)
Want to learn more about what'll be inside the big DFRPG box? Check the official DFRPG product page (which is sure to add more info before long), peruse the DFRPG Kickstarter page, or even delve into 68 (and counting) forum pages devoted to thoughts on DFRPG.
Like many weirdos who secretly long for ooze-infested dank corridors, I backed the project – specifically, as one of 320 people who chose the $250 "I Want It All!!!" pledge. That's a lot of money for a game, but SJG isn't skimping on the "all"; the money buys the game and a lot of extras. I'm glad I backed it, and am really excited about the project.
Why the excitement over a game that I could pretty much build from existing GURPS parts? I'll start a chain of thoughts on that below.
dungeons?
Why fantasy? Why
Here's a question that came up quickly and frequently among watchers of the project: Why would SJG choose the super-saturated fantasy genre for its first big boxed RPG set in ages?
The question goes back to Gygax and Arneson, and the question of why they chose a weird blend of swords, sorcery, monsters, and mythology (with a heavy sprinkling of Tolkien) as the backdrop for a new game in the 1970s. For some reason, they really liked that setting – and so did the generations of gamers that followed. Decades after original D&D, fantasy is still the king of all tabletop roleplaying genres.
What's more interesting, though, is the really weird fantasy sub-genre that D&D invented and that its many followers, including DFRPG, embrace: dungeon fantasy, with its hyper-focus on the exploration of caves, ruins, and – most of all – largely unbelievable underground complexes stocked with monsters and traps that guard gold, gems, and magical treasure. The word "dungeon" doesn't even really fit these oddball structures, but the games adopted it anyway (even into their titles!), and the term "dungeon" is now as firmly entrenched in the genre as the dragons are. Even countless video games, whether swords-and-sorcery fantasy or not, have overtly or subtly glommed onto the aesthetic of dark mazes of corridors and chambers planted with traps, enemies, and rewards.
These fantasy-flavored "dungeons" make for an oddly specific setting that doesn't even have a major precedent in literature that I'm aware of, yet gamers have loved it from the start. I don't know why. I only know that, however the industry stalwarts would answer "Why fantasy?", I'm on board with a big "Because it's fun!" Especially when the fantasy goes chthonic. Gearing up with medieval armor and fantastic potions, for a descent down a pitch-dark stone staircase into tunnels where eldritch ghouls and flesh-dissolving slimes hoard piles of coin, is somehow an experience nonpareil in gaming. It just works.
Maybe history is part of it: the fantasy dungeon is where roleplaying gaming was born, and is where so many gamers (including me) first entered the hobby. Maybe if Gygax and friends had first revealed roleplaying in a sci-fi or an Old West guise, that would have become gaming's default and its most popular genre. We'll never know. Either way, fantasy – especially below ground – is like a "home base" for many gamers.
(In short, I can't put my finger on what's so great about "dungeon" gaming. I'd say it just has a certain je ne sais quoi, though I'm not sure that's what it is. : )
Dungeons and the busy GM
Actually, there's at least one clear appeal to Ye Olde Faux-Medieval Multi-Level Basement of Horrors: the sheer ease of jumping into things, especially for GMs. Dungeon fantasy enjoys a near-unique ability to cruise along on nearly zero plot. Or even much sense. A nest of Giants somehow packed into an underground room, with a floor-full of rhomboid slimes in the next chamber? Followed by a trap that works like a hallway-sized food processor, lying magically dormant and fully functional for centuries until, presto, it juliennes your druid? Multi-story murder complexes in which everything tries to kill you – then rewards you with unexplained treasures when it fails? It all makes little sense – but we happily let dungeons get away with it.
Make no mistake: Adventures that offer plot and sense are awesome. Dungeon crawls are fun; with plot and sense added, they're awesome fun. But the genre can be so forgiving of time-pressed GMs. In superhero games, villains have to have some sort of recognizable human motivations behind their plots. Space settings suffer without a semi-coherent background of governments, trade, and wars. Old West heroes want at least a suggestion of in-story motivation for facing down the DeLaney Boys at the old mine. And those have nothing on espionage and mystery games. Lazy GMs like me are plain scared off by the intricate plotting, continuity, and who-knew-what-and-when timelines that these settings demand.
In contrast: A stone maze of randomly-placed undead guarding silver pieces and scrolls, just because? Somehow this setup gets an automatic +4 on everyone's Suspend Disbelief roll, a sweet bonus you won't find outside the cheesiest of space opera settings. (Which is just code for "dungeon fantasy in space" anyway.)
That plainness has a beauty. Sure, some will speak a bit disapprovingly of the simplistic dungeon crawl, calling it fine for, say, undiscriminating teens. I was definitely one of those back in my AD&D days! My dungeons were simple-minded and fun. Many years on, not surprisingly, I really like to run and play more sophisticated fare. But (temporal) maturity brings Affliction: Lack of Time. With kids and jobs and all, for many of us the sessions are too sporadic, the campaigns too short, for proper appreciation of carefully-planned games. Quick 'n' simple starts to look really good again, pointing some of us back to the nostalgic "home base" of monster-clearing mayhem.
Let's be clear, GMs: If you can work up a background with a bit of structure… if you can grace each dungeon with a reason for existing and plunk some sensible order into its monsters and treasures… do so! It's well worth it! (I'm probably going too far in painting dungeon fantasy as inherently simplistic, anyway. Even if the backdrop is super-sketchy and the dungeon a mishmash of barely connected encounters, a good GM can make each individual encounter a clever, lovingly-crafted challenge that calls for deep roleplaying and sharp tactical thinking. Dungeon fantasy can make for wicked smart gaming!)
Still, when you just don't have the time for all that, dungeon fantasy has always been oh-so-forgiving. "Uh, at the end of the hallway is… another room. A room with… ten Orcs! And two hulking Ogre Champions! And there's a treasure chest! With glowing runes on the lock. Behind a pit. A pit laced with strange web-like strings, as thick as ropes…"
Yeahhh, that's the stuff. Dungeon fantasy is roleplaying's sweet, fatty junk food. Ladle it up, DFRPG. This is gonna taste like coming home…
(Next up: GURPS' many options for playing with deadly things in dungeons. It's already written, even! Yow!)