(In which I inaugurate the diner-themed term "idea pot", inviting your cogitative degustation of little semi-tested morsels long bubbling on the back burner. Or still just leaking juices behind the vegetable crisper. Or brushed free of floor lint and returned to the stew. Shhh, you didn't see that.)
A GURPS character can kick another guy in the leg on a Brawling -2, Karate -2, or DX -2 roll (plus the modifier for hit location). I, too, can kick another guy in the leg without much trouble (well, until he kicks back, that is).
A GURPS character can also kick another guy in the head on that same Brawling -2, Karate -2, or DX -2 roll (plus the modifier for hit location). I, too, can also kick another guy in the… wait, head? No way. Not even with All-Out Attack and all that. The problem isn't TH numbers; it's that the head is way up there, and my foot doesn't want to go much past here. If I'm to have any chance of head-booting my nemesis, I'll need to trick him into bending over low to pick up his bifocals or something…
With my own challenged flexibility in mind, here's a simple high-kickin' idea that falls under the heading of easy-to-game realism, and at first touch seems to play well too:
Kick height and TH
In addition to any existing TH mods for kicks (including target location), apply a penalty for kick height, with three heights defined as follows: 
Low kick: No mod. (Locations: The kicker's knee height or lower.)
Center kick: -2. (Locations: The height of the kicker's upper leg, groin, and abdomen.) 
High kick: -4. (Locations: The kicker's chest or higher.)
Example: Roll the usual Brawling -2, Karate -2, or DX -2 to hit with a low kick -2. Apply an additional -2 to hit with a center kick, and an additional -4 to hit with a high kick. (Apply appropriate penalties for target location too.)
Relative position
A standing foe of your same general size will offer target heights that match your kick heights. You'll use a low kick to bruise his shins, a center kick to footprint his midriff, and a high kick to give him a taste of shoe leather. If the foe is kneeling, you can attack his center locations with a low kick, and his high locations with a center kick. The reverse will hold if he's standing on a table: you'll need a center kick to attack his shins and a high kick to attack his midriff, while his head will be out of reach. If he falls down, you can attack any location with easy low kicks. And so on.
Similar considerations can be worked out for foes of a different SM.
A jump can raise your effective position. Quickie idea: You can raise your position by 1 height level (low to center, or center to high) with a leap. Make a DX or Jumping roll to gain the extra height, but take an added -2 to the DX roll to avoid falling if you miss the attack…
Kicking butt (and higher)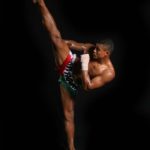 Leaps aside, how can you get your dogs up higher? With a technique to buy off the kick height penalty, of course. Here's what'll let you deliver that goodnight kiss from Doc Martens:
High Kicking (Average technique)
This technique buys off the penalty for center and high kicks. 2 points in High Kicking buys off the -2 penalty for center kicks, and reduces the penalty for high kicks to -2 TH. 4 points in High Kicking reduces the penalty to 0, letting you kick at any height with equal ease. 
Other techniques
Pondering the specific workings of various kicking techniques and height, some suggestions:
Kicking: This technique buys off the -2 TH that represents humans' inherent clumsiness with kicks, and is separate from High Kicking. A fighter will usually want to buy up Kicking first. 
Back Kick: Per generic kicks (i.e., apply the penalty for height kick, reduced for High Kicking).
Push Kick: Per generic kicks – or perhaps the ability to target center locations should be a Push Kick freebie? 
Knee Strike: This is a natural center kick, unusable with high or low kicks. Apply no penalty for height; High Kicking is irrelevant.
Stamp Kick: Per Knee Strike, but for low kicks only.
Jump Kick: Automatically raise position by 1 height level (i.e., reduce kick height penalty by 2). Optionally, you can further augment height with a leap (see above) to raise position by 2 height levels, reducing kick height penalty by 4 ("low" kick to the forehead, boom!). The penalties for missing will be harsh, though…
Flying Jump Kick: Per Jump Kick. 
Drop Kick: Per Jump Kick?
Pole-Vault Kick: Hmm; let this freely raise position by 1 or 2 height levels, as the kicker likes?
Axe Kick: I don't know; ignore height considerations?
Also, from the target's perspective:
Leg Grapple: As written – but take a -2 penalty to grapple the leg if it's sneakily kicking at your low location. (Perhaps this would also apply to grappling a leg in a Sweep, not just a kick.) 
Falling down
Per RAW, missing with a kick calls for a DX or Kicking roll to avoid falling down.
For detail, add the kick height penalties: -2 for a center kick and -4 for a high kick, reduced for High Kicking. (This is a realistic penalty, though harsh. Perhaps the base roll should be DX +2 or Kicking +2 to compensate?)
For even more detail, tack on another -2 if the kick was an All-Out Attack, -1 if a Committed Attack, and +1 if a Defensive Attack.
(Even hitting with a kick should arguably require a roll to avoid falling, though possibly with an additional bonus. Let's leave that extra complexity aside for now.)
All that jazz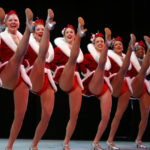 Any Rockette will tell you that sky-high kicks aren't for Shaolin monks alone. If you've got a taste for more detail in the arts, apply the kick height penalty to Dancing skill during certain performances: no penalty for a waltz, -2 for a high-stepping Cossack dance, and -4 for a chorus line. The High Kicking technique reduces these penalties, of course.
Yes, this means a Hapkido practitioner and a ballerina each have a small advantage when attempting the other's art. The fighter will mangle ballet at a clumsy DX -5 default, while the ballerina will attempt to bludgeon foes with pointe shoes at the default DX -2. But with 4 points in High Kicking, neither will suffer additional penalties for high kicks!
In play
I like the sound of this little complication, at least in a game that enjoys technical combat details. The simple business of a kick height penalty makes head-punting appropriately difficult. The High Kicking technique, meanwhile, creates a real distinction between dedicated high-kicking styles and more down-to-earth ones. Almost any martial art with kicks will have practitioners put points into the Kicking technique, but not all styles will emphasize High Kicking. Some may focus on practical low kicks only, prescribing fists for higher targets. (That could include street styles: spend your points on ways to toss the other guy down, and then commence kicking.) True high-kicking styles, meanwhile, will encourage the full 4 points in High Kicking, making every target location fair game for the feet. Yet other martial arts may limit training in High Kicking, and instead teach Jumping and Jump Kick, per the suggestion above, as the One True Way to put your foot in someone else's mouth. 
It'll cost you 4 points in High Kicking to make all your kicks comfortable at any height, but that's a small price for a serious martial artist (or prima donna).
Miscellaneous notes
Kicking vs High Kicking
I started out by trying to make Kicking itself the technique to buy off the kick height penalty, but things got a bit futzy when trying to redefine Kicking. I think Kicking and High Kicking are most comfortable as wholly separate techniques, with Kicking left in its RAW state.
Low blow
Very much off the top of the head, but: Would High Kicking have a corresponding version for punches? It seems clear that you can punch center and high locations with no problem, but should there be a -2 penalty to quickly dip down and punch a low location? If so, then a Low Punching technique could buy that off.
All very hypothetical, of course; really, what fighter wants to punch his foes in the feet? Then again, perhaps the suggested penalty, and the technique to buy it off, should apply to any low-location use of hands by a standing fighter: punching or grabbing a foot, grappling or parrying a low kick, and so on. What do you think?
Too harsh?
Are my suggested -2 and -4 TH kick height penalties too harsh? Don't say "yes" just yet. I think it's questionable whether the average schmo, with no athletic training and middling flexibility, could reasonably head-kick a standing foe at all. For simplicity and in GURPS-like fashion, this rule doesn't try to rules-lawyer what characters are allowed to attempt; it only applies a penalty for the hard stuff. And -4 is a big penalty, true, but think: even at a base DX-2, an additional -4 for height, and -5 for target location, the benefit of +4 from All-Out Attack, +4 for Telegraphic Attack, and up to +3 for preparation (Evaluation) leaves our non-fighter a fair chance of putting his best foot forward into a thug's mug. If the target weren't so small, he'd even have a good chance. (Edit 2014.02.08: Oops, MA makes clear that the Evaluate and Telegraphic Attack bonuses don't stack. It's one or the other.)
But you may still think the penalties are too severe (and in fact, much of the feedback on this idea would agree with you). No worry, there's a simple fix: Reduce the -2 TH and -4 TH kick height penalties to -1 and -2, respectively. Those are light penalties and easily bought off (just two points!) – too inconsequential to make the whole concept worth playing, in my mind, but some readers prefer those numbers. I may change my mind in that direction as well! 
Final word
Well. What do you think? Is this rule idea a shoe-in? Or should we give it the boot?